Tahiti Tourisme has launched its new corporate website: www.TahitiTourisme.org, a new tool and dedicated space gathering all the information concerning the organization, as well as all the resources necessary to promote The Islands of Tahiti. This new website is intended for the entire local and international tourism industry.
Its conception began in August 2021 and it was uploaded during Tahiti Tourisme's annual conference. The French version has been online since February 1st, 2022, and the English version is now online.
About Tahiti Tourisme corporate website
Intended for all local and international professional partners of Tahiti Tourisme, this dedicated space allows to gather all information in one place and to facilitate access for Polynesian tourism providers, travel agencies and tour operators.
In addition, it meets the needs of Tahiti Tourisme to communicate on the various actions deployed on its markets and the news of the tourism industry, several sections are available.

A set of resources at your disposal
In order to promote The Islands of Tahiti as a destination, the corporate website offers access to a wide range of Tahiti Tourisme resources such as the calendar of international and local professional events, all the trends and statistics concerning each market, different supports (brochures, maps, media library…), as well as media and press releases. 
The best of The Islands of Tahiti contents at your fingertips.
>> Discover our ressources <<
The calendar of international and local professional events (trade shows, workshops…)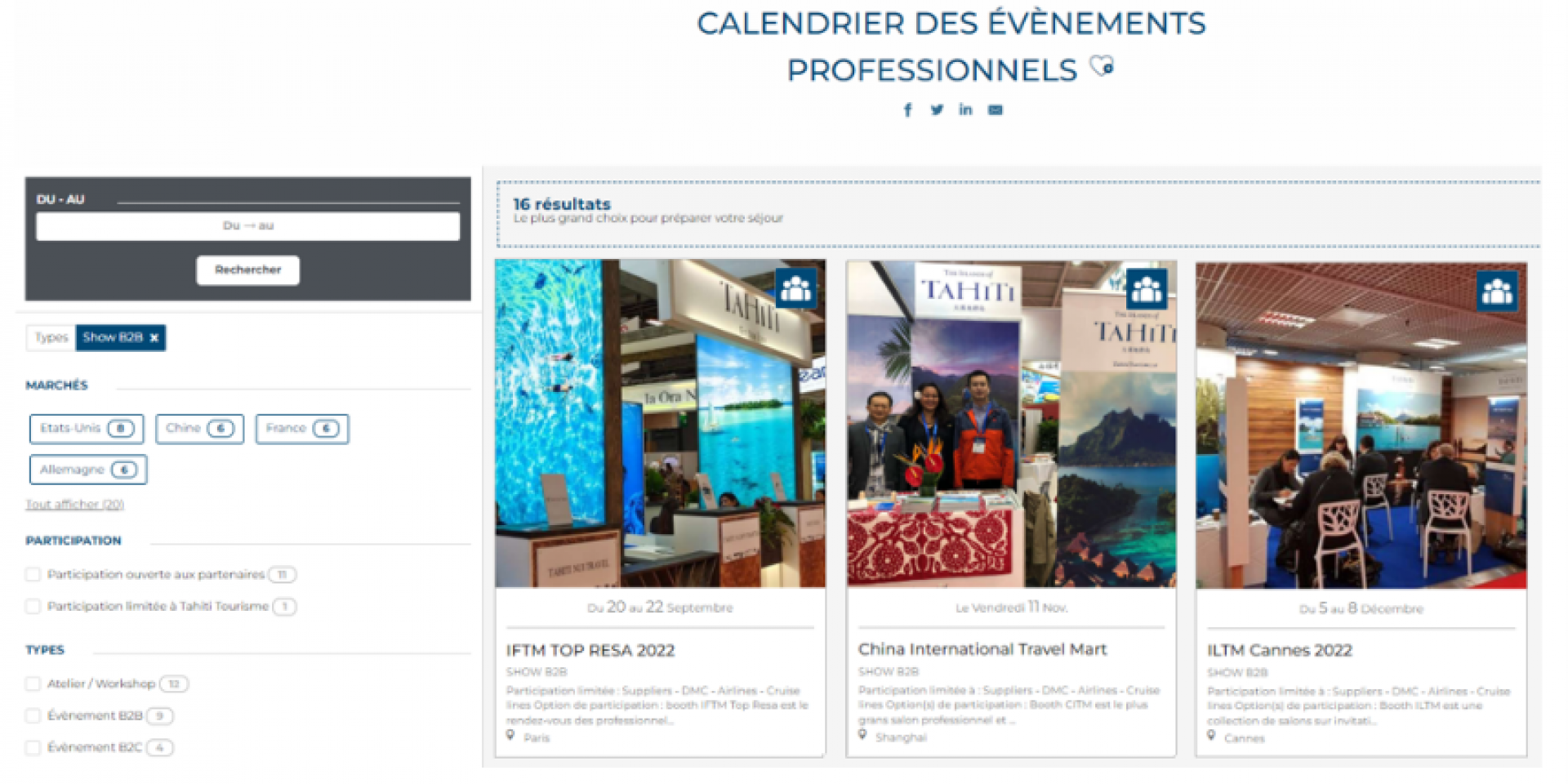 >> Discover the celendar of professional events<<
A dedicated space for Tahiti Tourisme partners
Local providers have the possibilty to become a member of Tahiti Tourisme!
By posting information about their activities, tourism service providers, tour operators, event organizers or travel agencies will benefit from a local and international influence on Tahiti Tourisme's websites with nearly 3 million visits per year. The Tahiti Tourisme corporate website has a minimalist visual identity with a design that facilitates seamless navigation and access to a range of contents. This dedicated space is essential for the participants of the local and international tourism industry. It completes the 18 public websites available for all international markets and the local market.